I have chosen Mayfield as my first local suburb snapshot as it is the suburb where I grew up and now where I currently live. So its fair to say I know it pretty well. While growing up in Mayfield, the house I grew up in is below in this gallery, I saw many changes. We moved away before the Woolworths supermarket was built and it was just before BHP announced its closure. Most of the neighbours were young families like ours or older residents that had built their homes after World War 2. I remember the area to be fairly safe and well kept.
Mayfield gained a reputation after BHP closed as an area of low socio economic residents and crime during the 1990s. Homes were bought by investors relatively cheaply and the standard of maintenance dropped. You still may hear these comments from those unfamiliar with the Mayfield of today.
When the city was first established, Mayfield was consider one of the most prestigious suburbs to live in the 1870s until when BHP started operating in the area. Check these flyers which explain some of the history of Mayfield and include that of a couple of the houses below  Burrundulla & Corio.
Mayfield: the Toorak of Newcastle – Front & Back
Mayfield: Living the life – Front & Back
Housing Stock
If you divide Mayfield in half by Maitland Road, there is a northern side and a southern side. The northern side including streets such as Crebert, Kerr & Bull include some of the oldest residences in the suburb, if not the city. Some of these were built by prominent families toward the end of the 1800s. Some retain large blocks while others have been carved off and converted into smaller subdivisions over the years. These homes are typically 1900-1940s cottages built from weatherboard and built on bearers and joists. There are a number of streets on this side of Mayfield that have rear lane access which provides off street parking. The average lot size is 300-400 sqm with the occasional 450 sqm. Streets closer to the old Commsteel Factory (to the Western side of the suburb) often have larger blocks 500-600 sqm.
There are some old "serviceman cottages" that were built for returned servicemen and their families in the southern part of the suburb. These were typically double brick and consisted of a large main bedroom and one or two very small other bedrooms. The bathroom and kitchens were also very small compared to some of the homes built in the 1930s-1940s nearby. The soil is quite sandy in this part of the suburb as it was once swampland. There are some homes that have a spear point for bore water which indicates a very high water table. After heavy rain this part of the suburb takes a little longer to dry out and in some parts the footpaths/yards can be flooded.
Typical issues you may find with homes of this area include piers or sub floor repairs required. Some of the piers were the old concrete piers and have corroded over time. Typically with homes of this age you may also find timber damage from pests or water (known as wet rot). Being the heavy industrialised suburb that it was and like many of its neighbours Islington, Maryville, Tighes Hill and Carrington, if the homes haven't had their roof insulated, there may be a large amount of dust collected up there. When homes have been insulated, the roof cavities are typically vacuumed out before the insulation is installed. Its a fair assumption that there is asbestos in most houses in the area unless there has been extensive renovations completed recently or it is a newly built property.
Amenities
Mayfield has a vibrant main street which is Maitland Road. There are a large number of service providers from chemists, medical centres and specialists through to retailers, takeaways and supermarkets. In the gallery below there is a picture of a future shopping centre. This is on Maitland Road and will likely have car parking entering off Havelock Street. The shopping centre will have Coles Supermarket as its anchor tenant supported by a number of specialty stores. The suburb has a number of schools both private and public. There are child care centres in the suburb as well. A popular pub is The Stag and Hunter on the corner of Maitland Road and Hanbury Street (see below) which has live music and a well patronised bistro. Barrio 2304 is a small restaurant in the east end of Maitland Road. Not far away is Pork Ewe Deli which has also picked up a large and popular following. A favourite of mine is Kung Fu Noodle on the corner of Valencia and Maitland (opposite Woolworths and next door to Aldi) for a quick and cheap dinner. There are a number of gyms in the suburb too, catering for a wide variety of people. From Anytime Fitness (ironically located near McDonald's) to Genesis (24 hours full service gym) to Balance Collective (part of Wests Group, where the Knights train also an indoor pool aquatics/ learn to swim).
Transport
Mayfield is conveniently located about 10 minutes from the CBD of Newcastle, 15 minutes to major shopping centres Kotara and Charlestown and about 25 minutes to Newcastle Airport. It is well serviced by public transport with a number of Newcastle and private bus operators as well as being close to Waratah train station (one station from the University of Newcastle at Warabrook).
  Continued Below Gallery
Sales and Growth
Besides Wallsend, Mayfield is one of the highest number of sales per suburb in the Newcastle LGA. This is in part to the fact it is a very large suburb. As you can see illustrated in the graph below there has been strong consistent growth of the last ten years with a slight bump after the last market correction we had in 2005. During the 2000s the combination of the closure of BHP and the increase of the first home buyer's grant stimulated interest in the suburb. Since then the suburb has flourished with many homes being renovated, young couples/families moving in and an increase in the number of cafes in the suburb.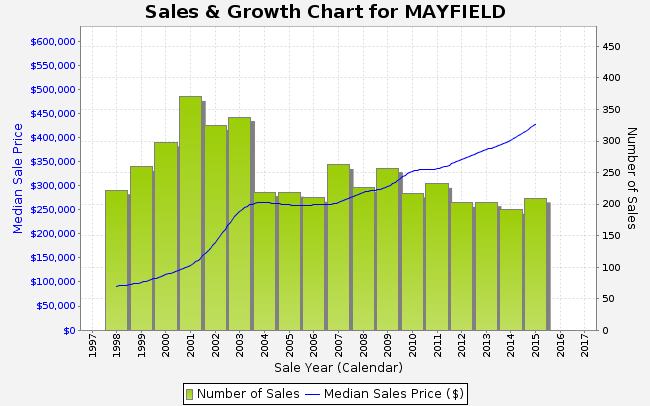 Summary
Mayfield is a suburb for a broad spectrum of buyers looking for convenience, affordability, character and proximity to all the amenities. While the lot sizes aren't huge, the suburb has a number of parks to stretch your furry friend's legs.  There is a lot more to the suburb that I'm sure I have missed and I will continue to update this as time goes on so if you have any questions about buying in Mayfield or the Greater Newcastle Area feel free to email me or call me on 0438502371